Remingtons of Niagara Fundraising Dinner for Niagara Falls Community Outreach
Added on March 1, 2017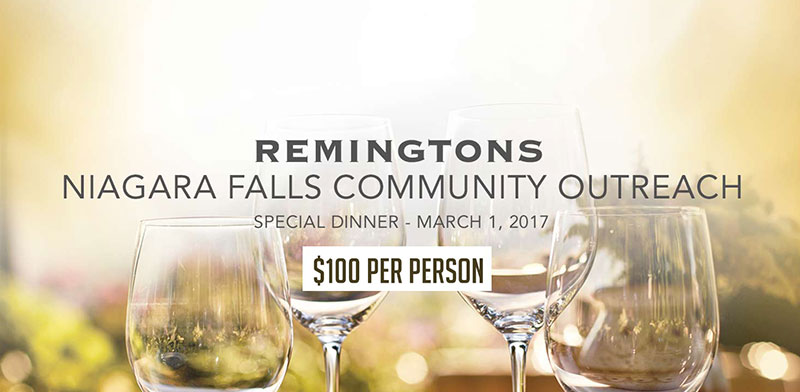 The Niagara Falls Community Outreach Dinner is an annual fundraising dinner, hosted by us! All of the proceeds from the dinner will go to Niagara Falls Community Outreach.
Here are the details of this amazing charitable dinner:
When: Wednesday March 1, 2017
Where: The Finest Steakhouse & Seafood Restaurant in Niagara Falls, Remingtons of Niagara!
Address: We are located on 5657 Victoria Ave, Niagara Falls
Time: Cocktails commence at 6:00PM and Dinner will be served at 7:00PM
Price: $100 Per Person
Remingtons Community Outreach Dinner Menu
This years dinner will include four gourmet courses with wine, and will include a $50 Charitable Tax Receipt. Also included is an 'Enter to win' contest for a chance to win a Gourmet Getaway Package for two at The Oakes Hotel Overlooking the Falls, which features a three course meal with wine at our restaurant as well!
Guests of the 2017 Community Outreach Dinner can look forward to this menu:
FIRST COURSE
Remington's famous beef and barley with a coalescence of fresh filled hearty vegetables in a bouillon
SECOND COURSE
Local blend of crisp Niagara butter blend lettuce, heirloom tomatoes and fresh bocconcini all undulated in an aged Modena balsamic dressing
THIRD COURSE
Canadian reserve beef tenderloin medallion overplayed with a crackling Dungeness crab galette and consummated over creamy red skin potato and asparagus. Crowned with a roasted red pepper and maison fonder cognac lobster cream
FOURTH COURSE
A fine Indulgence Italian gelato
Please Join us at Remingtons of Niagara
We invite all to support this years Community Outreach Dinner as it a truly a great cause paired with delicious food. The Niagara Community Outreach charity strives to alleviate hunger by providing meals to anyone in need- free of charge. There are over three hundred volunteers that serve over 40,000 meals a year.
We sometimes forget that freshly prepared, cooked to perfection meals are a luxury or a privilege. We are thankful that we are able to carefully craft and offer such beautiful dishes to our guests everyday.
We hope you will join us for the opportunity to give back to this Niagara charity. For tickets to this event please call 905-354-1640 OR 905-358-9390. For more information on the event or the charity please visit the Niagara Falls Community Outreach Dinner website.
We thank all in advance for their generosity! We look forward to seeing you in March.