History of The Prime Rib - Remingtons Signature Dish
Added on February 25, 2017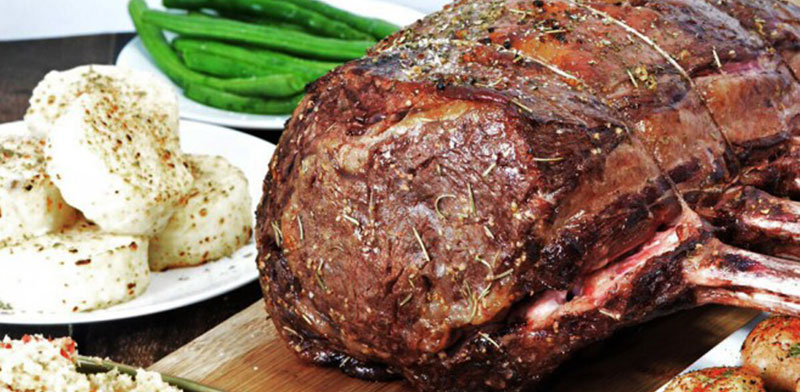 The History of The Prime Rib!
Ever wonder about the history behind Remingtons Signature Prime Rib Dish? We Did! So we thought we'd share our findings with you! The Prime Rib of Beef came a long way before its claim to fame at Remingtons of Niagara.
Remingtons Famous Prime Rib of Beef
Prime Rib, is a cut of beef from the primal rib, located in the area behind the shoulder, but above the lower back. This cut can be comprised of 2 to 7 ribs and comes from ribs 6 through 12 on the animal, where the meat will offer a generous amount of marbling, which contributes to its juiciness and flavour. This primal cut of beef includes some of the most tender muscles on the entire animal!
The exact origin and beginnings of prime rib are unclear, although most historians agree roasts became popular during the Industrial Revolution in the United Kingdom, Australia, Ireland, New Zealand, United States and of course, Canada!
It was during those times that Prime Rib was originally known as the "Standing Rib Roast." It's given name was in its simplest of forms as the cut is roasted "standing" on the rib bones.
Those from British or Irish households recognized a standing rib roast as a "Sunday Roast." This meal was commonly served with mashed or baked potatoes, stuffing, vegetables, and gravy. Many families consider the Sunday Roast an important tradition, set aside for the afternoon after morning church services have concluded. Regardless of ethnic origin, many people set aside Sunday as "Family Dinner Night", a great way to bring everyone together.
At Remingtons of Niagara, we agree that it's important for families, friends and couples to come together, and what better way to bring people together than over a delicious meal! Our restaurant provides an Early Bird Prime Rib Dinner Special that allows guests to join us for a late afternoon gathering in our charming, cozy atmosphere and enjoy the Signature Prime Rib Dish that we are most famous for!
Why Are We Famous For Our Prime Rib?
We have crafted the Prime Rib cut of beef into a signature dish that we promise will deliver on all levels! Our meat is AAA Canadian corn fed beef, that is aged for a minimum of 40 days, which intensifies its flavour. It is then slow roasted with a blend of our own eclectic spices and cooked in a sealed state of the art halo heat technology oven which has no fans and creates added humidity for greater moisture and more tender cuts of beef. This technique essentially locks in all the juices and flavour you desire and expect in a delicious prime rib bite!
But that is not all!
All of the juice drippings are added to a pot and then reduced to a rich flavourful Demi that all guests enjoy. Paired with our very own horseradish sauce and this Prime Rib Dish is a sure home run!
Join us for dinner anytime to enjoy our Signature Prime Rib Dinner, or anything else on our menu! As one of the finest Steakhouses and Seafood Restaurants in Niagara, we stand behind all of our grilled to perfection and freshly prepared dishes. We look forward to seeing you for dinner, make your reservations to Remingtons of Niagara today!